Santorini is an island full of surprises and one way to discover them is to explore its stunning villages, each with its own unique personality and picturesque beauty. Distances are small between these delightful hamlets. They're easy to visit, and each one, or a combination of a few, makes for a perfect day out. From north to south, this is Santo Collection Resorts & Villas' guide to Santorini's most lesser-known villages.
Pyrgos Kallistis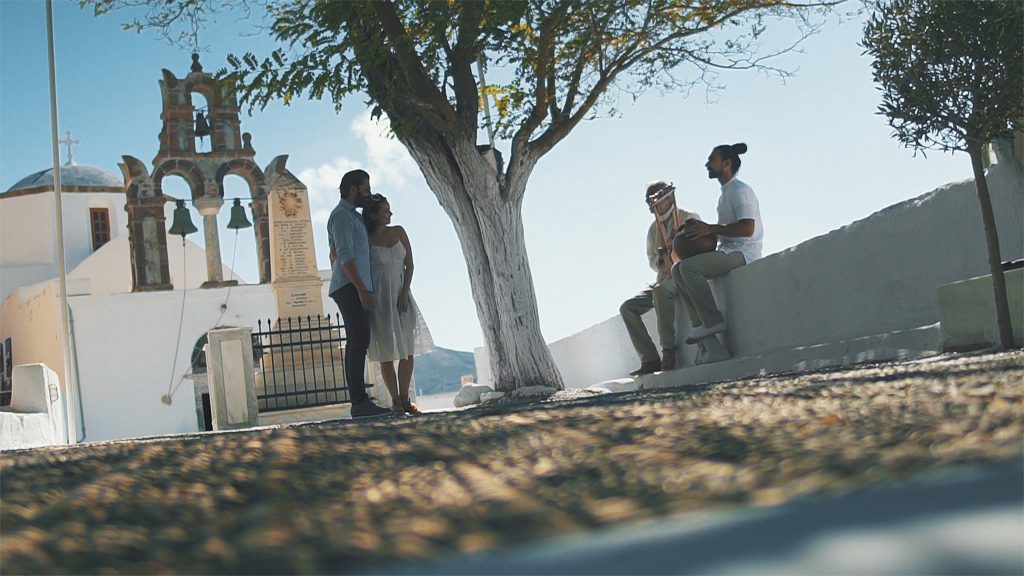 Ηilltop Pyrgos comprises the best-preserved medieval settlement on the island, and at the foot of Mount Profitis Ilias, the village combines its delightful tranquil ambience with panoramic views. This is a different side to Santorini – a community that exudes the Greek village of times gone by. The main square, with its pine trees and coffee shops, is good to visit late morning when locals gather for ouzo or Santorinian beer to compliment tasty mezzedes.
Set back from the caldera, Pyrgos doesn't need the teeming terraces, bijou balconies and infinity pools, that make up much of what is today's typical image of Santorini.  This is a place that has witnessed a different and gentler path of development, but delightful creature-comforts are still to be found here. Its steep medieval alleys are home to some great wine bars, cafes, restaurants and boutiques. Head to the Santorini of the Past museum for insights into traditional island life. The Church of the Presentation of the Virgin Mary dating back to 1660 is one of Santorini's largest and most important places of worship.
Finikia
A twenty-five minute walk less than two kilometres east of  Santo Collection, the village of Finikia sits amongst terraced vineyards on a peaceful hillside. Pastel-coloured properties and boutique hotels plus a handful of traditional tavernas line the cobbled alleys of this picturesque community. Head towards the clifftop to the Profitis Ilias Church for a great viewing spot.
Karterados
A kilometre inland from Fira, the village of Karterados lies at the centre of Santorini, In the 19th century this was a glorious, prosperous settlement where sea captains built their stately homes and the architecture here is stunning. Cave houses dating from the 17th century, and a restored windmill in the main square add to the charm.  Surrounding streets are lined with lively tavernas, restaurants and boutiques. Looking east over a lush green valley with vineyards, the remote Exo Gialos Beach is close by, with black volcanic pebbles and deep blue, crystal-clear waters. With fascinating rock formations (a result of salt and wind erosion) Exo Gialos is one of Santorini's most unusual landscapes.
Megalochori
Megalochori still honours its elegant seventeenth-century roots, dotted with pirate hideaways and historic high-walled mansions with hidden courtyards. Tavernas and boutique hotels offer the customary caldera views, but it's the vineyards in the surrounding hills that make Megalochori a place to truly savour.   Wine-making is engrained in the area's culture here and it's where the island's first commercial winemakers were established.  Since Roman times, Santorini has made wines from a handful of specific grape varieties – Aidini, Assyrtiko, and Athiri for whites, and Mandilaria and Mavrotragano for reds. Vineyards flourish in Santorini's black ash-rich volcanic soil and one-sixth (more than 1500 hectares) of the island is given over to wine production.
The main grape variety grown on the island is Assyrtiko covering 65 per cent of Santorini's vineyards, and differing altitudes and soils result in varied styles. Most Santorini wines are known for their dry, crisp mineral-laden qualities. In the Megalochori area, sometimes referred to as "the Tuscany of the Aegean", a vast wine culture can be explored.
From centuries-old subterranean wine cellars to ultramodern wineries hewn from the volcanic rock, Megalochori is a feast for the senses.  Explore local producers like the family-run Gavalas Winery, the Hatzidakis Winery, and ArtSpace Winery – and a visit to the pioneering and architecturally stunning Venetsanos Winery overlooking the Caldera is a must.
Akrotiri
Eleven kilometres south-west of Fira, Akrotiri is a traditional village set in the island's southernmost peninsular.  Largely untouched by mass tourism, Akrotiri is one of the least developed parts of the island, is steeped in history, and makes for fascinating explorations.
Built below the now ruined 13th-century Fortress of Akrotiri, the modern-day village lies to the north and close by Ancient Akrotiri – the most important archaeological site on the island, which dates back to to the Bronze Age. Archaeologists believe the original settlement was constructed around 4,500 BC  but destroyed by successive earthquakes and volcanic eruptions.  On Santorini's westernmost tip, a lighthouse (one of Greece's oldest) dating from 1892, makes a fine location for watching that sunset with a difference.
Vlichada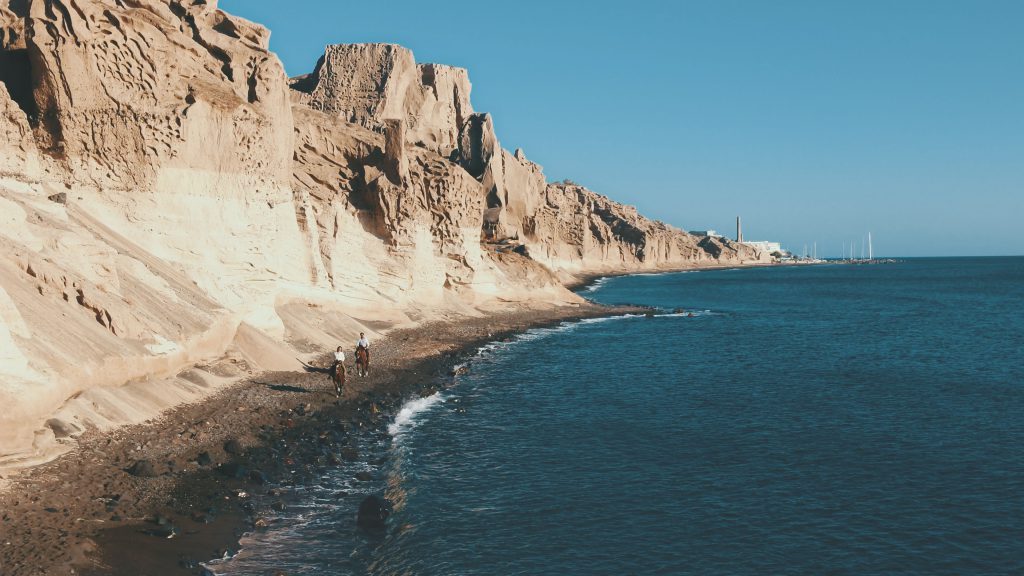 Quiet Vlichada village is famous for its black-pebble beach, backed by wind-sculpted, volcanic cliffs. Art exhibitions are held at the Santorini Arts Factory, and the village's  Tomato Industrial Museum featuring items used in the tomato-canning industry offers fascinating insights into this historic Santorini crop. Water's edge seafood tavernas make this a great spot for a laid-back fishy lunch.