Add Greek purity into your beauty routine with this evening luxury spa ritual by our Anassa Spa Specialists
STEP 1: CLEANSING
As a face treatment always starts with a good cleansing, make sure you have removed your makeup before starting our face cleansing steps. Plain coconut oil can be a great natural makeup remover. Washing removes dirt, sweat and pollutants on the surface of the skin. If you have dry skin, you can also use olive oil to wash your face. Rinse with warm water and don't use hot water as it can make your skin, even more, drier. If you have oily skin, use gel or foam cleansers instead of soap to wash your face.
STEP 2: FACE PEELING
It is good to do a peeling for your face 1-2 times a week. The peeling removes dead skin cells on the skin surface and ensure healthy, new skin. Exfoliating is a bit more intensive, which is why it is not recommended if you suffer from sensitive skin.We can make our own peeling easily and quickly with ingredients you may already have at work and see your skin getting silky and radiant. Our secret here is the honey with its antibacterial benefits while the nourishing olive oil that softens the skin while its antioxidants and good fats may also help reduce free radicals to relieve irritated skin.
DIY SUGAR AND HONEY PEELING
Ingredients:
1 tbsp brown sugar
0.5 tbsp honey
3 drops of lemon juice
3 tbsp olive oil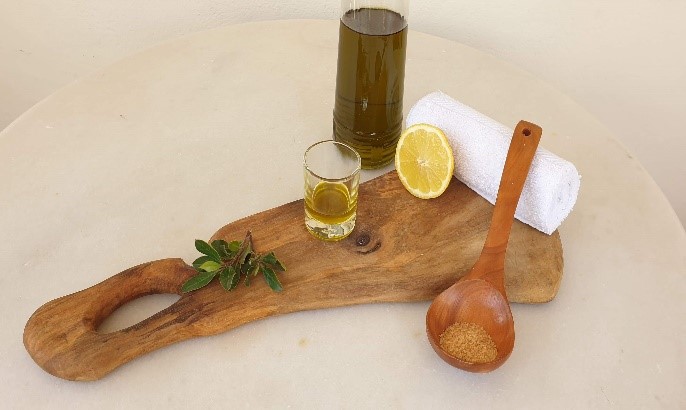 Method: In a small bowl, combine the brown sugar with the olive oil and the honey. Mix them well into a thick paste. Next, add the lemon juice drops.  Now, apply a desired amount of the scrub to your skin with a gentle massage using small, circular movements avoiding the eyes and mouth area.
Once applied, leave on for about ten minutes, then gently rinse with plenty of warm water.
STEP 3: FACE MASK
Adding facial masks in your daily face beauty routine is considered as one of the easiest ways to have healthy, glowing and supple skin just in a few minutes. They are especially effective in cleansing and moisturizing as they tighten pores and hydrate your skin.
DIY HYDRATING FACE MASK WITH CUCUMBER
Ingredients:
1/4 of the cucumber
1 tbsp oats
1 tbsp honey
Method:
Combine the oats, the honey and the cucumber pulp and mix them Mix them well into a soft paste. Leave the mixture for about half an hour at room temperature to thicken. Once you will have applied it to dry, cleansed skin and leave it on for 15 minutes. Then, rinse with lukewarm water.
STEP 4: SERUM, EYE – FACE CREAM
We finish our face care with creams to keep the moisture into our skin.First apply the face serum of your choice, making massage with your fingers until it is fully absorbed.Facial moisturizers play an important role in fighting dryness and sun damage. Apply a light moisturizer and eye cream. Gently use your fingertips to massage the moisturizer on your face and neck.Then apply the eye cream by making circles around the eyes.We finish with the face cream, all over the face, neck and décolleté.
Moisturizing is even more important if you have dry skin. Look for a moisturizer that contains shea butter, coco butter, or another rich ingredient that will protect your skin from drying out.
By Olympia Manidaki from our Aegeo Spas associates