Santorini has many organized beaches, but some of the best you will find are off the beaten path. Here are some of the best off-road beaches to visit when you stay at Santo Maris Oia Luxury Suites & Spa.
Katharos is the closest beach to Oia. It is a charming, pebble beach, secluded and pristine, not so popular with tourists, so perfect if you want to spend moments of blissful privacy facing the crushing waves of the Aegean. But keep in mind: the road to the beach is quite a challenge. Because the terrain is rough (pebbles and stones), wear good shoes. You may also consider wearing water sports shoes when you go swimming here because of the pebbles, which find their way into the water and may be rough on your feet.
Koloumbos is about 4 km east of Oia. It is another off-road wonder, with shallow waters, hard to access on foot, but well worth the effort. A charming path lined by thyme bushes takes you to a black pebble beach that has no modern facilities. You will be in touch with nature, undistracted by crowds. Koloumbos is perfect for couples.
The beach at Ammoudi – Agios Nikolaos is right below Oia, at the bottom of the cliff, and it's is better known than Katharos and Koloumbos. It is often accessed by mule descending the 235 steps from the Oia castle. The route offers excellent views of the iconic cliff houses of Oia. Because it is so close to Oia and to local tavernas serving fresh seafood and fish, this beach is often crowded.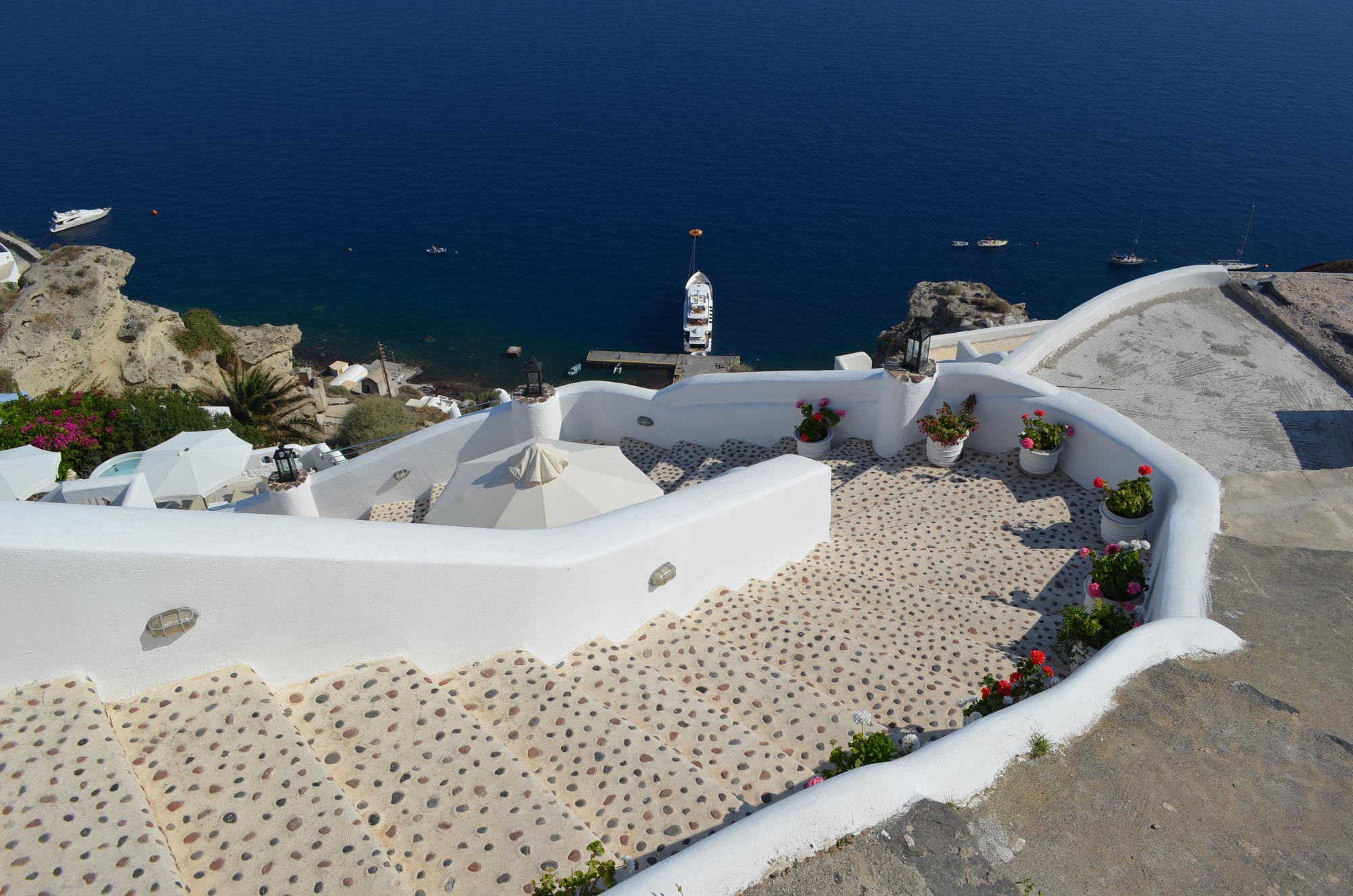 Finally, Armeni, which is not far from Ammoudi – Agios Nikolaos, can be accessed by boat or through 286 steps which begin at the marble street of Oia village. The beach is small, but its landscape is beautiful. Plus, there are some local restaurants where you can enjoy good seafood at reasonable prices too.