If you enjoy privacy and seclusion, Santo Pure Oia Suites & Villas is the ideal retreat. Although close to the busy heart of Oia in Santorini, you'll feel like the humming crowds are miles away. This is thanks to the hotel's privileged location: at the northwestern side of Oia village, right at the perfect setting to admire the sunset.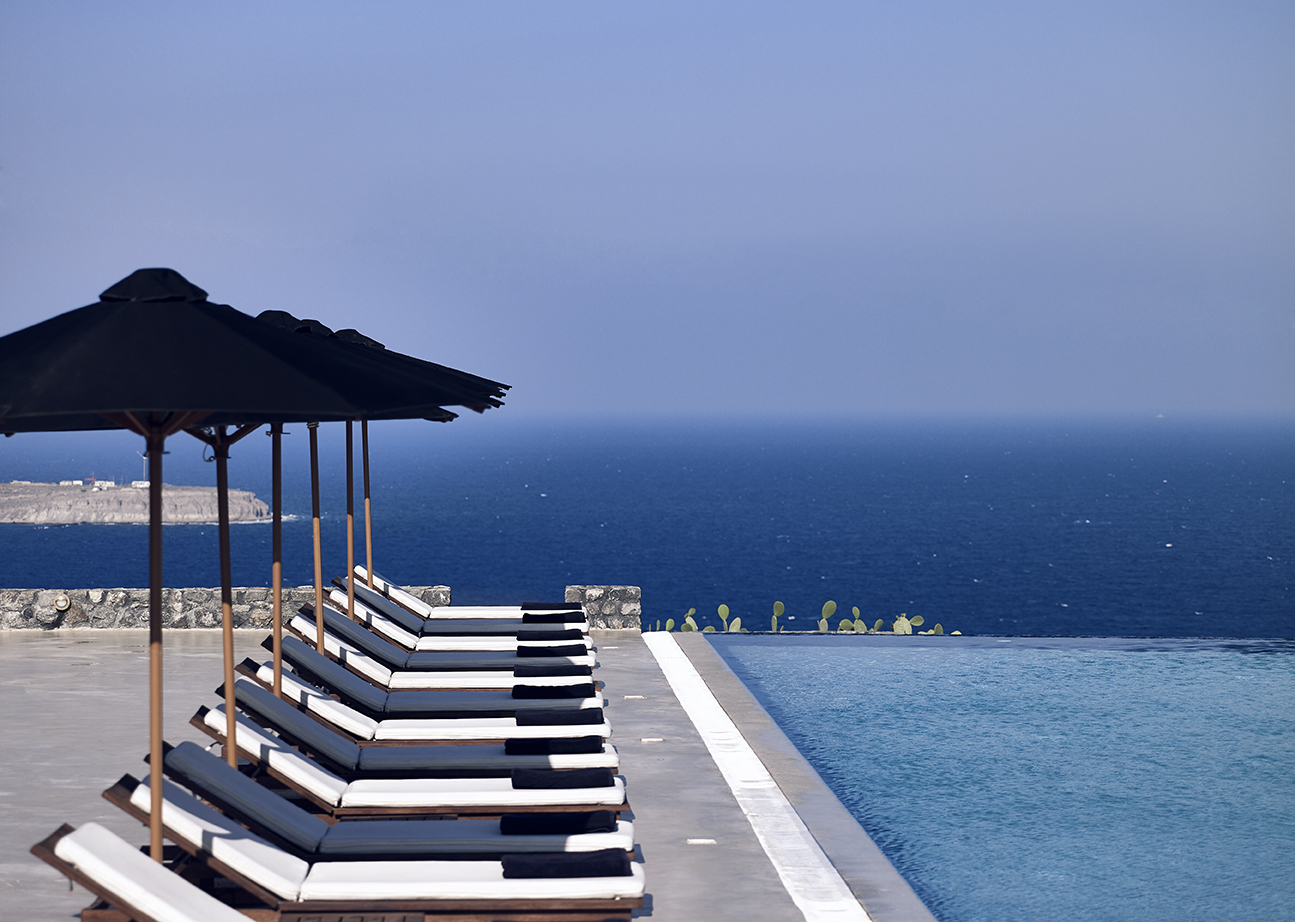 Santo Pure Oia Suites & Villas may not be located at downtown Oia and the Caldera side, but for those who wish to photoshoot the signature windmills, the whitewashed little houses and to stroll through the paved alleys of Oia, they can get there in an only 5 minute walk through the hotel's private path.
Returning from Oia, in Santo Pure Oia Suites & Villas you will find a sanctuary to spend your vacation in peace and tranquility combined at the same time with luxury and comfort. Evenings are magical in your suite's private veranda overlooking the dazzling Aegean Sea that turns fiery red, orange, and yellow under the skies when the sun sets at the horizon.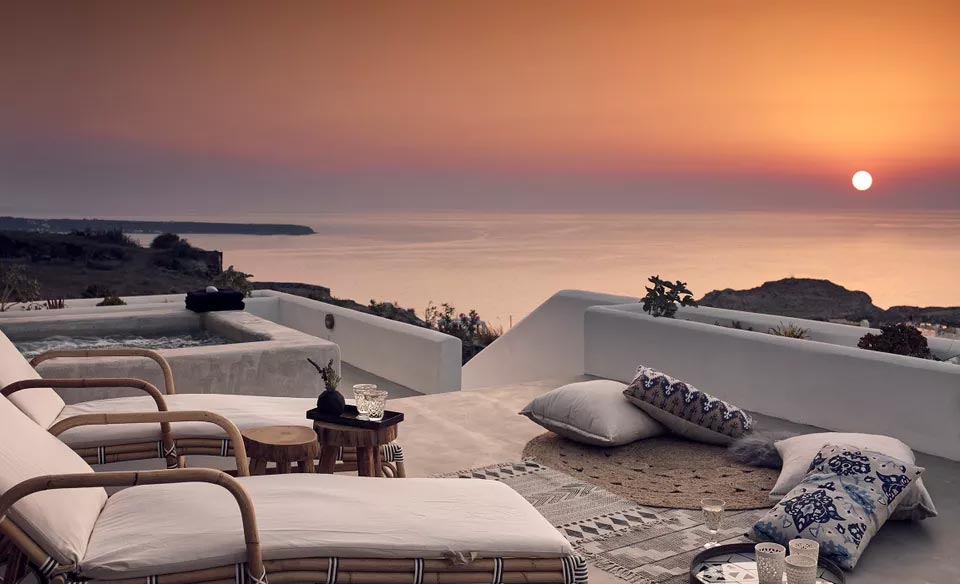 To enjoy the most famous Oia sunsets with Santo Pure Oia Suites & Villas we gathered the best loved options for you: the Honeymoon Suite Sunset Sea View, the Deluxe Junior Suite Sunset View, the Deluxe Suite Sunset Sea View, the Royal Suite Sunset Sea View, and the Luxury Villa Private Pool Sunset Sea View; All of these allow you to observe the spectacle before twilight in the skies.
From the private verandas of these accommodation choices you will be able to admire the dazzling Aegean sea while bathing at your outdoor heated jacuzzi. Most of the couples enjoy the serenity of the place when "the sky turns amber-yellow-and-red, and the sea below is a reverie of violet waves with silver-glossy whipped-cream crowns." And they enjoy it in solitude, undisturbed by tourist hubbub. This is what travel writer Mihaela Lica Butler enjoyed the most.
When we see the sunset the second day from the peaceful terrace at Santo Pure Oia Suites & Villas in front of our suite, the dream gets even better, because we both love solitude. That evening, for a moment, I thought that Vinsanto tastes like the sunset, but the next morning, when I bit into a Santorini tomato at breakfast, I changed my mind: the tomatoes taste like Oia's sunsets. They do.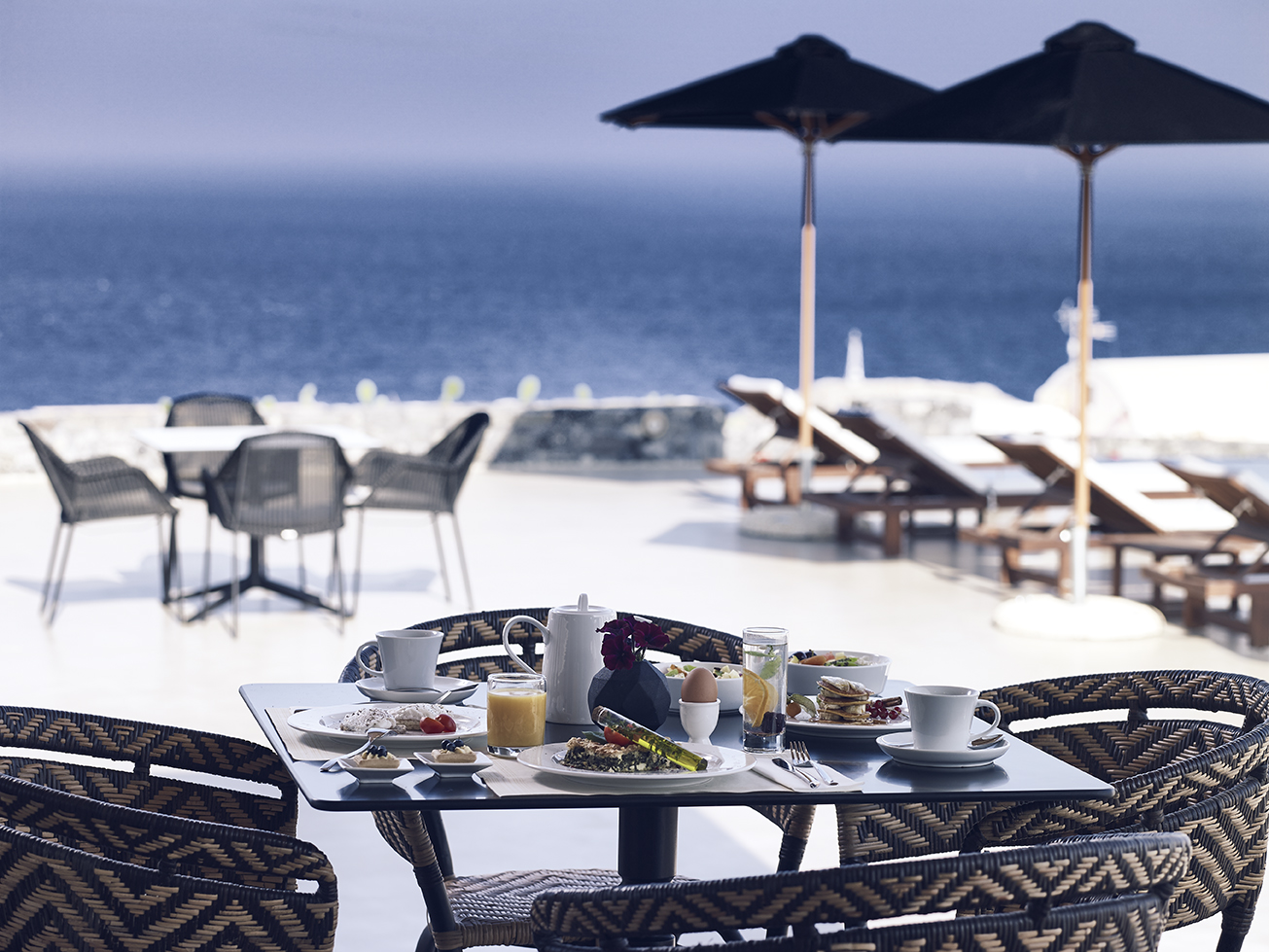 Even the Alios Ilios restaurant, offers the ideal setting to gaze at the sunset over the main infinity pool. Enjoy modern Cretan treats made with fresh, handpicked products from Crete, Santorini and the Aegean Islands accompanied with an excellent glass of Assyrtiko or Vinsanto wine. The most rewarding way to highlight your vacation.