Nelly Sougioultzoglou-Seraidari (1899-1998), was an amazing Greek photographic talent better known as Nelly's. Her unique attempts to capture the distinctive light of the Cyclades and other Greek locations are legendary. Her extraordinary work is reflected in the "Nelly's Santorini, 1925-1930" album, which was published in 1987 and republished in 2001 by the Archive of Santorinian Studies. Famous for having traversed every goat's path and cliff precipice on Santorini to capture this special harsh light, the view from Nelly's lens still captivates people from every walk of life even today.
The volume published by the Archive of Santorinian Studies includes comments from the photographer about her perceptions at the time. Back in those days, travel to the island was exclusively by boat from the mainland or from Crete, and in Nelly's recollections, this travel log of her journey's plays a major role in the compositions of the photographs. One paragraph from the book reproduced by Greek daily newspaper Kathimerini puts things into perspective:
"I could hardly wait to set off with my equipment. In those days, one travelled by sea. The boat to Santorini arrived at dawn. It was, I recall, summertime. At 5.30 a.m. I was on deck. I wanted to enjoy my first view of the island from a distance, before entering the harbor, and to take a few photographs from there. I shall never forget that magical spectacle upon beholding the island. It seemed as if I were looking at an enormous chocolate cake, topped with whipped cream. And when the sun rose and shed its golden rays upon it, I gazed as if I would never get my fill. Never before had I seen such a vista, and I tried to make the most of those unforgettable moments, to immortalize them in the few photographs I took."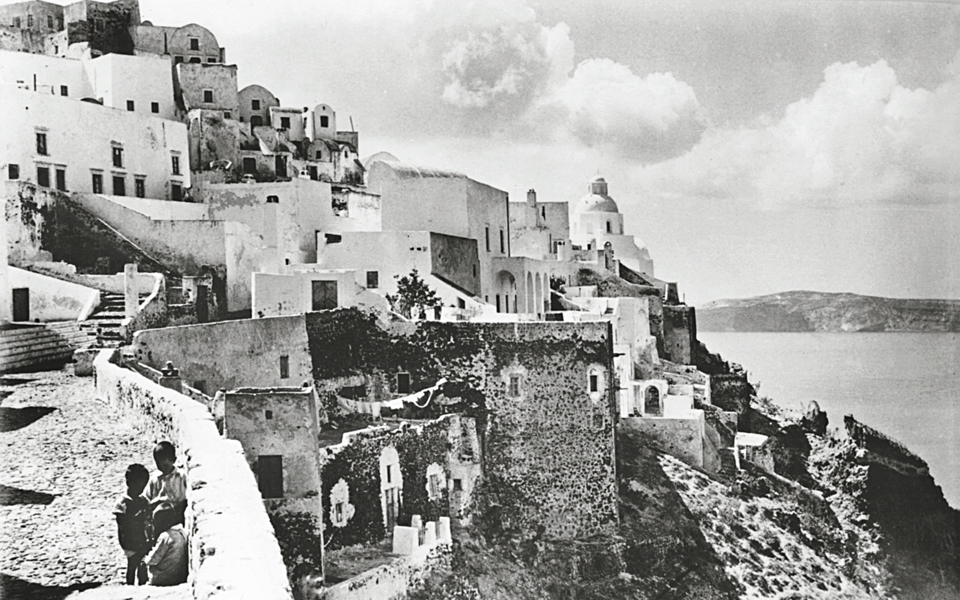 The adventurous photographer took special note of the way the island looked from the sea as her boat approached, and the first photos of the island are from before entering the harbor. During her adventure on the island, Nelly managed to capture stunning imagery from Fira, Firostefani, Imerovigli, Pyrgos, Kamari, Exo Gonia and Perissa, with famous Oia proving too difficult to navigate for more than a few images.
Nelly's work on Santorini brought the island to life in images for the first time, making the nature the focal point, adorned with unbelievably lifelike people, stunning village-scapes, and conveying the unmatched beauty of Santorini.
Even 90 years after Nelly processed these images, the vibrant captures of volcanic Santorini have left an indelible mark. Pictures from Nelly's trip to the island in the mid-1920s now grace the collection of the Benakis' Museum.