With just a few days to go to the ultimate sports experience in the Mediterranean, swimmers, runners and walkers from around the world are heading to the majestic Santorini island for the fifth Santorini Experience taking place October 4th to 6th. Last year, competitors from 45 countries across five continents took part in the event, and this year organizers are expecting an even higher number of participants.
Two days of open-water swimming and running set against the vast natural amphitheatre of the caldera, beckon athletes of all ages and abilities who wish to test themselves in what is one the of most stunning landscapes in the world.
On Saturday 5th of October the events begin, with runners take on the 15km, 10km and 5km routes following steep paths over the hills along the caldera, with participants enjoying breathtaking views of the volcano and the stunning landscapes of Imerovigli, Firostefani and Oia. The gentler 5km 'Aristides Alafouzos' route is a favourite for keen amateur runners and power walkers.
The focus turns to the glistening waters of the Caldera on Sunday when swimmers will head to Fira for embarkation to the volcano – the start point of the now legendary 2.4km open-water race back to the Old Port. And don't worry if you can't keep up with the pros, more sedate swimmers even have the option to use snorkel and flippers!
Mixing professional swimmers with keen amateurs, the organizers of the Santorini Experience are keen to stress that is an event for anyone and everyone who enjoys running, walking and swimming.
In 2016 the Santorini Experience attracted worldwide attention when global TV network FOX Sports broadcast the event to more than 40 million viewers. A host of awards for the event followed including gold awards for Best Sporting Event Production at the Ermis Awards in Greece. The Santorini Experience was named Unique Tour Company of the Year at this year's Travel & Hospitality Awards.
One of the event's biggest fans is Greek national swimming team member George Arniakos, who took part in 2018. "I've swam open-water all over the world, but nothing beats the energy of Santorini's caldera," says Arniakos. "The wind is so strong, you can smell the sulphur, and the image of the giant rock wall of the island approaching is just incredible".
Register here for the Santorini Experience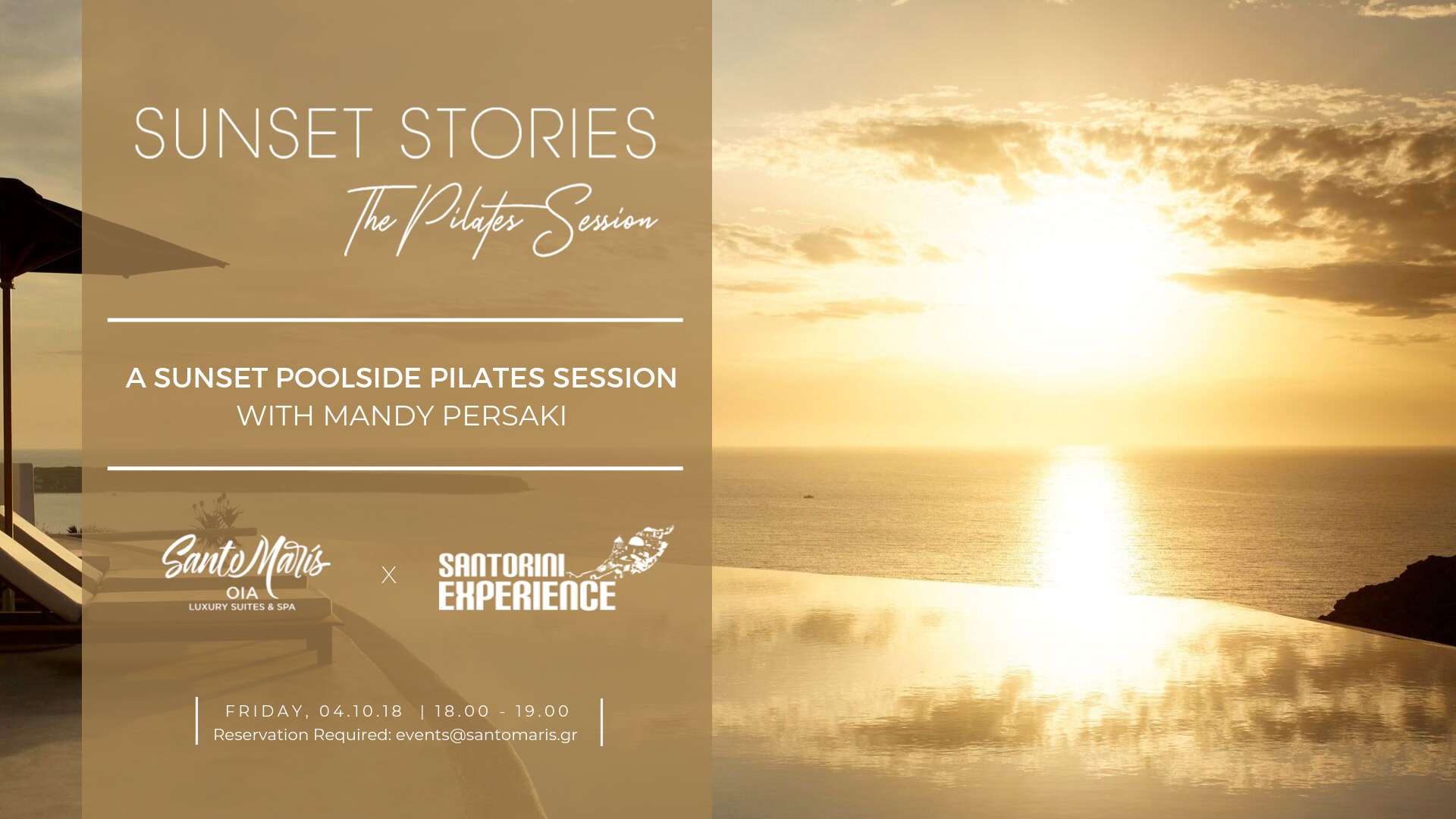 Being an Official Sponsor of "Santorini Experience", Santo Maris invites you to an exclusive Sunset Poolside Pilates Session under the guidance of the recognized instructor, Mandy Persaki. If you wish to take part at this exclusive wellness experience, reserve in advance and relish in moments of tranquility awakening your body while the sun is setting to the velvet Aegean Sea.
PILATES GUIDE: Mandy Persaki
DATE: Friday, 4th of October | 18:00 p.m. to 19:00p.m.
DRESS CODE: Fitness clothing
EQUIPMENT: Mats will be provided
Space is limited, so please make your reservation in advance at events@santocollection.gr/santo-pure or at +30 28975 02151