About two miles away from Oia, within the flooded Santorini caldera, Nea Kameni awaits with its boulders of lava, and a volcano that fascinates thousands of tourists. We recommend a trip to this volcano for all travelers who want to discover the most spectacular sights of the caldera. There are many tours by boat to the island of Nea Kameni available – you can catch a boat at the old port in Fira, and reach the volcano in less than 10 minutes.
From the foothills of the volcano, you can reach the top after a short hike, of about 20 minutes. The air is rich in sulfur, as the volcano is still active – its latest known eruption not so far back, in 1950. The volcano is actively monitored by the Institute for the Study and Monitoring of the Santorini Volcano (ISMOSAV), and safe to visit. Although it is eastern Mediterannean's youngest volcanic land-form, Nea Kameni had took its toll on people lives, decimating the population of Akrotiri in the late 17th century BC.
Keep in mind that visiting the Nea Kameni National Geological Park is not free of charge, albeit the entrance fee is symbolic, and helpful to support monitoring of the volcano. Vegetation is scarce on Nea Kameni, and the volcanic rocks of the island are mainly covered by red grassy succulents, and yellow sulfur deposits. But, besides the desolate aspect of the place, there's a special charm that draws visitors to the island, and the views from the rim of the volcano are simply breathtaking. Don't forget your camera, because, besides having fascinating volcanic landscapes, this is one of the best spots to snap pictures of Fira and Oia on the main island of Santorini.
Following, these are the main points of interest on Nea Kameni:
Point A – the "Mikri Kameni" dome;
Point B – the South Rim of the Daphne crater;
Point C – the twin crater – beware of fumaroles here;
Point D – the Georgios dome peak;
Point E – and the Liatsika Lava, from the last eruption in 1950.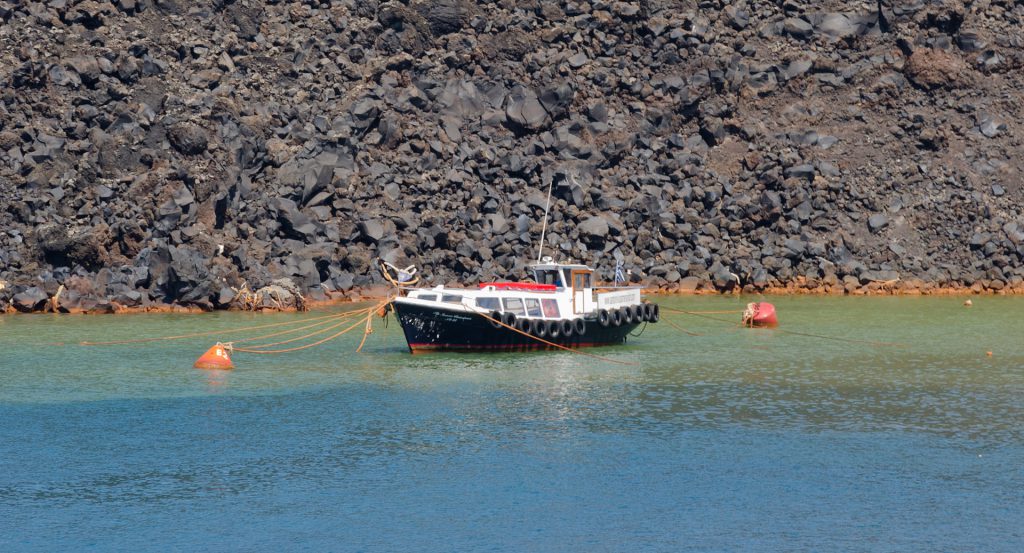 No matter how experience a hiker you may be, don't abandon the official path when you visit the island. There are fumaroles along it, as well as untamed lava rocks, and hot steam. If you want to know if the island is safe to visit, this map monitors seismic activity in the area.
And it would be a pity to visit Nea Kameni without continuing your trip further to Palea Kameni, to bathe in the undersea "hot springs" there. Swimming from the boat to the springs seems to be a favorite pastime among many tourists – and no, the springs are not that hot. Their temperature usually reaches 35°C.