Sailing the Aegean is a rewarding activity for many visitors to Oia. Either you book a boat tour, or rent a yacht, this is a must during your stay. You can count on Santo Maris Oia Luxury Suites and Spa to make it happen, or you can adventure on your own in finding some of the best guided sailing tours. Here are just a few.
In Santorini you will find a good range private, semi private, and guided tours. They follow several itineraries for unique luxurious excursions as well as the adventurous sailing tours. Their sunset tours are among the most popular, but you can also book them for a romantic wedding excursion. Most of the times, the price includes all amenities you need on a boat (like towels, and snorkeling equipment), but also dinner and unlimited drinks.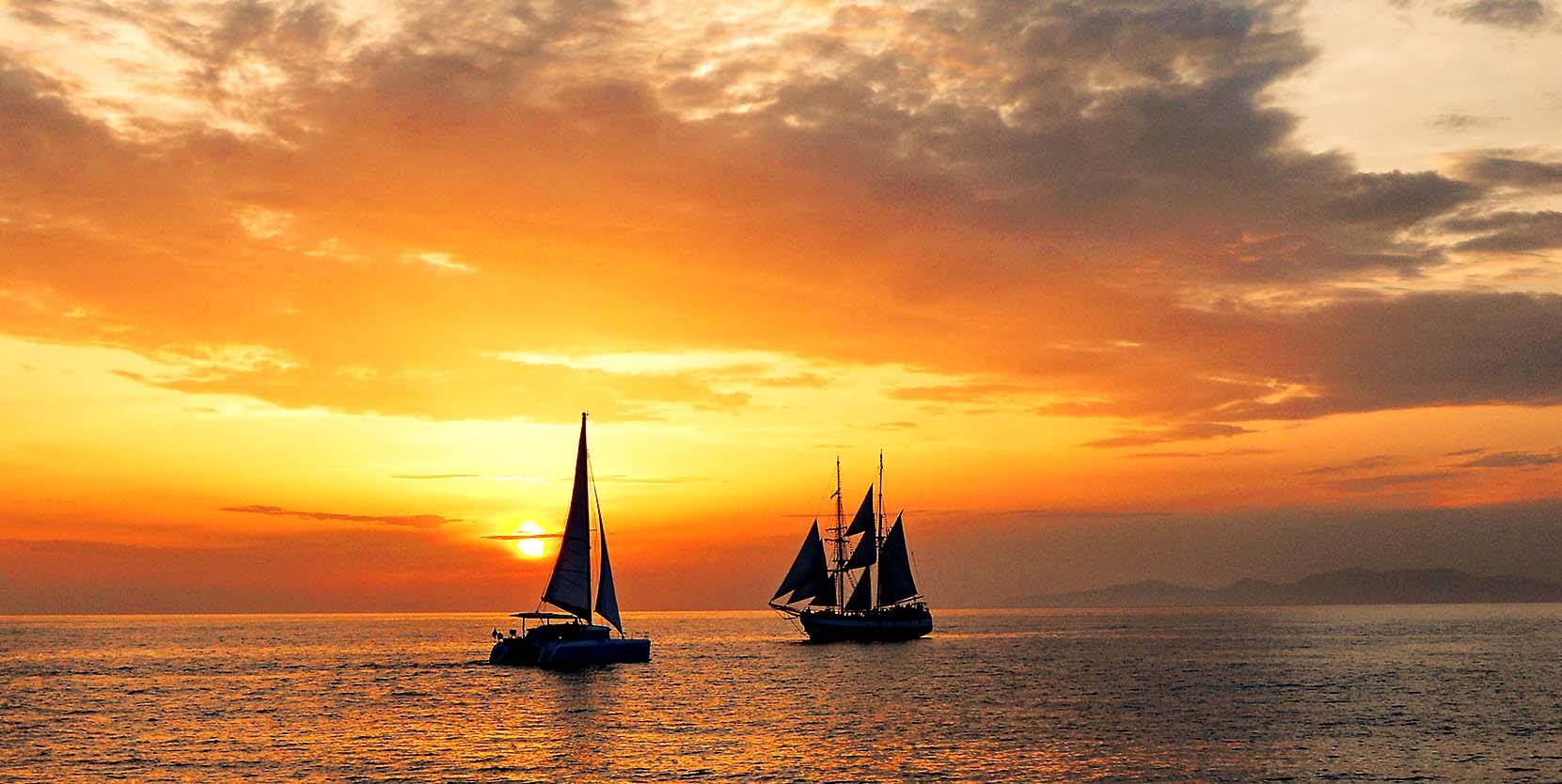 Sailing the Aegean with a yacht is a memorable experience too. Try a romantic sunset semi-private cruise, which departs from the marina of Vlychada and sails the Aegean across the gorgeous coastline of southern Santorini. All private tours depart from Ammoudi Bay and disembarks in Ammoudi Bay.
Yacht charters and catamaran sailing tours for small and large groups are available. The crews are very familiar with surroundings and can suggest excellent itineraries for those who are not familiar with area.
Stop at Red Beach for swimming and snorkeling, then at the White Beach for swimming, snorkeling, and barbecue lunch on board the vessel, and finally reach the Hot Springs for another swimming session.
An other great option is a daily catamaran sailing excursion,s too. All the tours are enhanced with something special, like authentic Greek foods, and drinks. You can choose a public tour, but also semi-private and private cruises are available. The public tour follows the itinerary Volcano-Hot Springs-Thirasia and departs from the two small ports of Oia, Ammoudi at 10:15 and Armeni at 10:30, returning at about 15:45. This type of tour comes with free transportation from and back to your Oia hotel. Sailing the Aegean doesn't get better than this.