The famous Koutsoyannopoulos Wine Museum, one of the top attractions of its kind in the world, is found at the heart of the island, in Vothonas, a small village, worthy of attention.
While the museum is undoubtedly a must-see, the hamlet is equally impressive for its particular architecture and location among pristine landscapes. Most of the homes that make this traditional settlement are dug in stone, in the walls of a gorge. They are usually described in travel guides as the cave dwellings of Vothonas, and while many are deserted, many were renovated and are currently in use. Modern buildings and these ancient dwellings alternate in the village, which has a bit over 600 permanent inhabitants and survives from tourism and agriculture, mainly winemaking, taking advantage of the rich volcanic subsoil.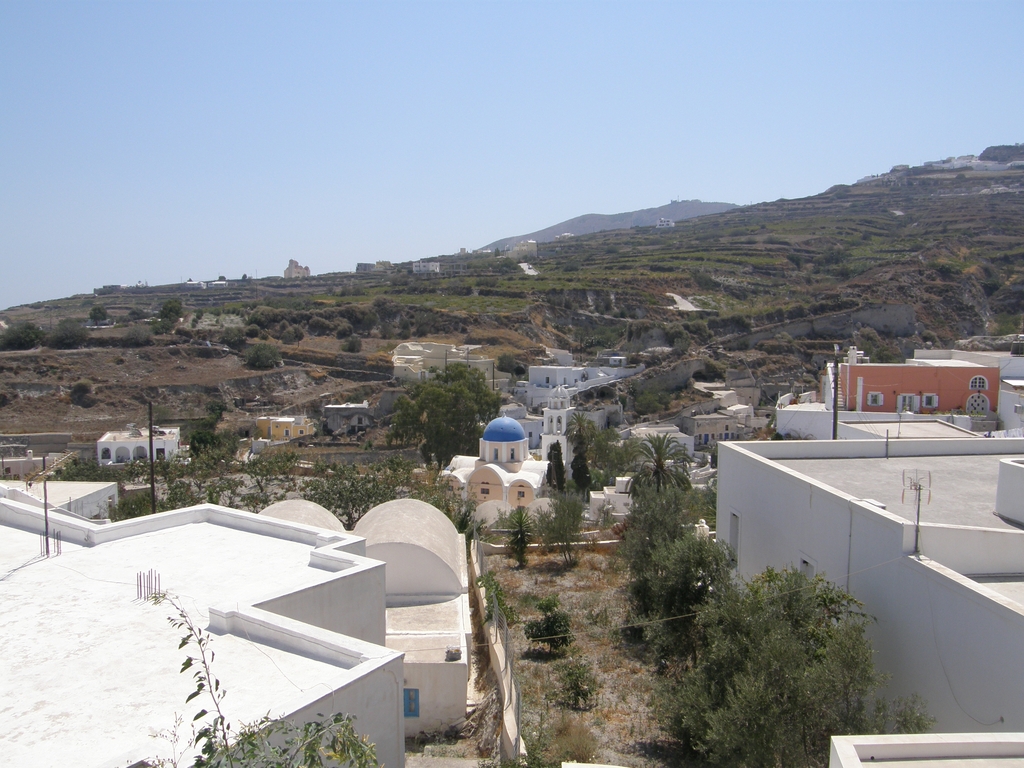 Vothonas is an atypical sight on the island, and it attracts many tourists, but also many of the locals during religious holidays like the Assumption of St. Anne every end of July (25) celebrated at the impressive Church of St. Anna, which dates from 1827.
But the most beautiful church in Vothonas, the Church of Panagia Sergena, or Panagia Trypa (Virgin Mary in the Hole), is carved in stone and lies outside the village. It served as a refuge during the Ottoman rule and is now a popular tourist attraction. It celebrates its patron saint the second day of February when hundreds of believers come to pay their respects and to enjoy the mass, as well as traditional foods, and music. Steps lead to the entrance located about 20 meters above the ground. If you visit Panagia Trypa, you will enjoy peace and solitude, and you will feel like a pilgrim, observing the nature of the area through the narrow entrance and a small window carved in stone for ventilation rather than for letting the light in. Access to the chapel was once via a wooden ladder, which still exists today, but is no longer in use. Instead, visitors step on new, safer steps, and use the second ladder. This is a pleasant stop before exploring the rest of the rural community.
Walk down the cobbled streets of Vothonas and take in the spirit of the village, then rest at a local tavern, and ask for a glass of wine to tame your thirst. If you visit the newer side of the village, you will notice many modern homes, some still under construction, as well as building housing international businesses, like Carrefour. For restaurants and taverns, you will have to visit nearby Mesaria.