We opened the summer season 2018 with two additions to our sophisticated accommodation offer: the Exclusive Sunset Junior Suite and the Exclusive Sunset Suite Private Pool.
Both are designed for serenity and comfort, boasting ultra-luxurious amenities to make your stay memorable and remarkable, but more importantly, allowing you to admire the incredible sunsets of Santorini on your own.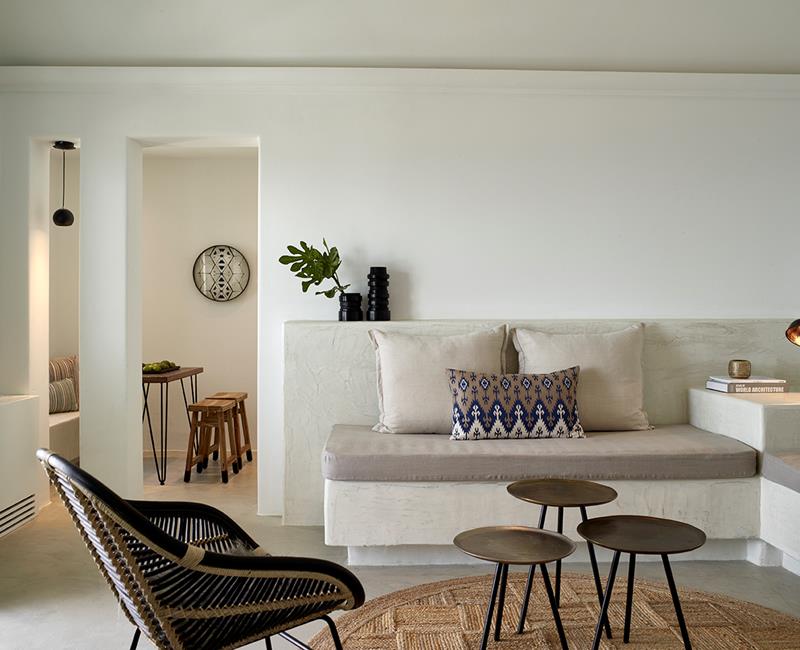 The Exclusive Sunset Suite Private Pool is in the Cyclades neighborhood and, true to its location, it boasts architectural and interior design traits inspired by Santorini's most luxurious homes. The rooms are painted in a soft white tone reminiscent of the whitewashed walls of the cliff houses of Oia. Modern, handmade, all-natural tinted furnishings provide a plus of refinement to these ample spaces. The décor is lean and minimalist – we focused on coziness and style, eliminating all the unnecessary clutter that could take away from the zen and romantic feeling of the suite.
We took care of all those important little details that make a foreign place homey and convenient, supplying the suite with all the amenities you need for a pleasant stay: fully equipped kitchenette, espresso machine and coffee and tea making facilities, individually controlled air condition unit, electronic safe deposit box, and luxurious toiletries in the bathroom. We welcome you in style, with a bottle of wine and traditional suites you can enjoy on the veranda watching the waves turn to honey at sunset.
You can spend lazy days by your private pool or your jacuzzi, unperturbed by prying eyes.  The suite is ideal for couples and newlyweds looking to spend a memorable honeymoon on one of the world's most beautiful and sought-after wedding islands. With mesmerizing views of the sea from dawn until dusk, overlooking the enchanting Thirasia island, the Exclusive Sunset Suite Private Pool will be your sanctuary during your holiday in Santorini.
You can check availability and make reservations on our official site for the best available prices and other perks available only for direct bookings.