The Luxury Sunset Villas at Santo Maris Oia Luxury Suites & Spa are the ultimate expression of the glowing minimalist indulgence designed to captivate our guests. Perched to look over the sparkling blues of the Aegean Sea, offer guests moments of tranquility and serenity by admiring the colors of the sky. When you think about your stay on timeless Santorini years from now, you will remember the unassuming décor, bright spaces, and mesmerizing vistas offered by these dreamy villas.
Santorini is an unforgettable memory no matter what, but Oia's magnificent sunset, observed from the privacy of your own personal pool helps create an epic story. These chic villas offer style perfection, luxurious privileges like your own private veranda with heated Jacuzzi, dinner al fresco or even your own in-room spa therapist at your beacon call.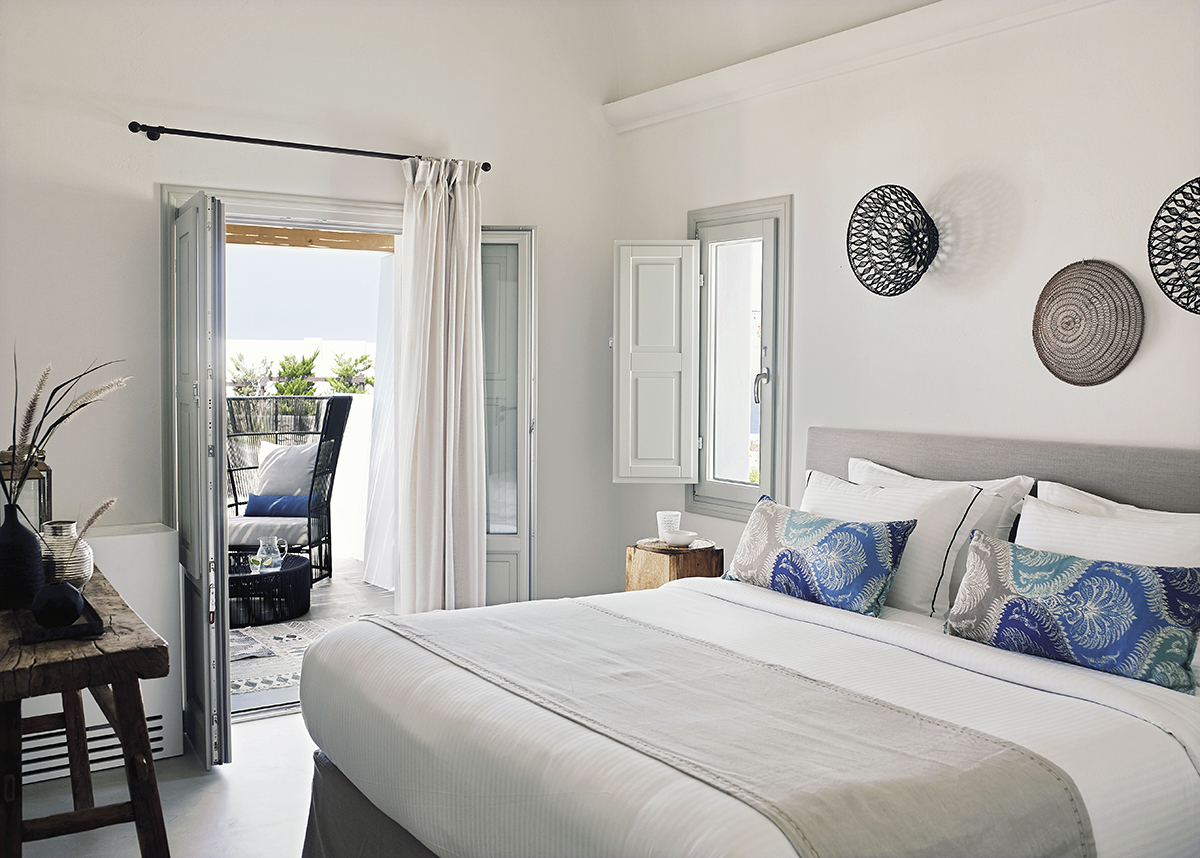 Each Luxury Sunset Villas has two spacious bedrooms with king-size beds, individual showers adjoining separate bathrooms, kitchenette, beautiful living areas, personal sauna, and a veranda with sun loungers for blissful sunbathing and relaxation at the resort. Accommodating up to four guests, they flaunt all the luxury amenities you'd expect from free Wi-Fi, luxe toiletries, plush bathrobes and slippers for a plus of comfort, and even separate sitting room with modern entertainment, like ultra large flat-screen HDTVs with international channels. There's also a room for a butler, all complete with a functional kitchen. Everything about these villas is conceived to make you feel like a VIP – from the bottle of wine and sweets we prepare in your room to welcome you at Santo Maris Oia Luxury Suites & Spa, to the smallest memorable details that will make your stay a unique experience.
From your arrival on Santorini, the unexpected of this majestic island surrounds you like you thought it will when you saw those images of epic sunsets of Oia. The glorious Greek architecture that's graced magazine covers for decades, ancient Akrotiri, the cliffs, those unmistakable churches, and black sand beaches will still catch you unaware. There are only two things that can make your experience more memorable. The significant other you share it with, and the warm hospitality experience in the scenic Luxury Sunset Villas of Santo Maris.
The Luxury Sunset Villas were designed with epic personal stories in mind.