The Greek souvlaki we all love in an easy-to-make recipe at home
Just because you can't host your loved ones for intimate gatherings right now doesn't mean you don't deserve to treat yourself. We know that there is no other favorite than the typical Greek souvlaki. So, till you will be able to taste this mouthwatering snack at our Poolside Bar follow our Executive Chef, Vasilis Katsikas, to a healthier twist of the classic recipe and enjoy it at home.
Pita flatbread with chicken gyros, avocado tzatziki sauce, cherry tomatoes, onion chutney and french fries.
METHOD
For the Chicken Gyros:
Chicken drumsticks (150gr), deboned and skinless, marinated in mustard, lemon, thyme, rosemary and salt. Grill on the grill plate and cut into bite sized pieces.
For the Avocado Tzatziki Sauce:
Blend 2 avocados, 30ml lime, 25gr glucose and ice. Add finely chopped cucumber, garlic, vinegar, salt, pepper, chives, and olive oil.
For the Grilled Cherry Tomatoes:
Score the tomatoes and plunge them into boiling water for a few seconds, then plunge them straight into ice cold water. Alternatively, burn them with a blowtorch until the skin blisters and pops. Peel the rest of the skin away by hand, marinate the cherry tomatoes in olive oil, oregano, salt, and garlic. Grill or fry for a couple of minutes until slightly charred on both sides.
For the Onion Chutney:
Finely chop the onions and sauté them in olive oil and cow butter until golden, soft and sticky. Add salt, thyme, sugar, balsamic vinegar, and tabasco sauce. Simmer until the liquid is reduced and the mixture has a jam-like dark and thick texture. Add some parsley.
For the French Fries:
Use a potato the size of your fist without peeling it. Wash it well and cut it into four pieces lengthwise. Deep-fry them in 100 oC and leave them until soften. Briefly leave to drain on absorbent paper (carefully so as not to break). Raise the oil temperature to 220 oC and cook again until golden brown and crispy.
Mini pita flatbread
Brush well the pita flatbreads with olive oil and grill them on the grill plate.
ASSEMBLING THE WRAP
Spread some of the avocado tzatziki sauce onto the warm pita bread, add the onion chutney, the cherry tomatoes, the chicken, and the French fries. Fold the pita by pressing more tightly at the bottom to give a slight cone shape and wrap in parchment paper.
If you are taking this Greek experience seriously, accompany your Souvlaki with a Alpha Estate Rose, Xinomavro wine paired by our Maitre d'Hotel, Giorgos Tsinogiorgos. It has a bright rose color, with salmon color hints, a fruity nose with rich expression of rose petals and strawberries. Well balanced mouth, fat but balanced, reminding the nose aromas, with long aftertaste.
It is also well-paired with local cuisine, roasted red peppers, stuffed tomatoes and peppers, light grilled meats.
Grape: Xinomavro
Alcohol: 13%
Serving temperature: 46-50 °F 8-10 °C
Aging potential: 1-3 years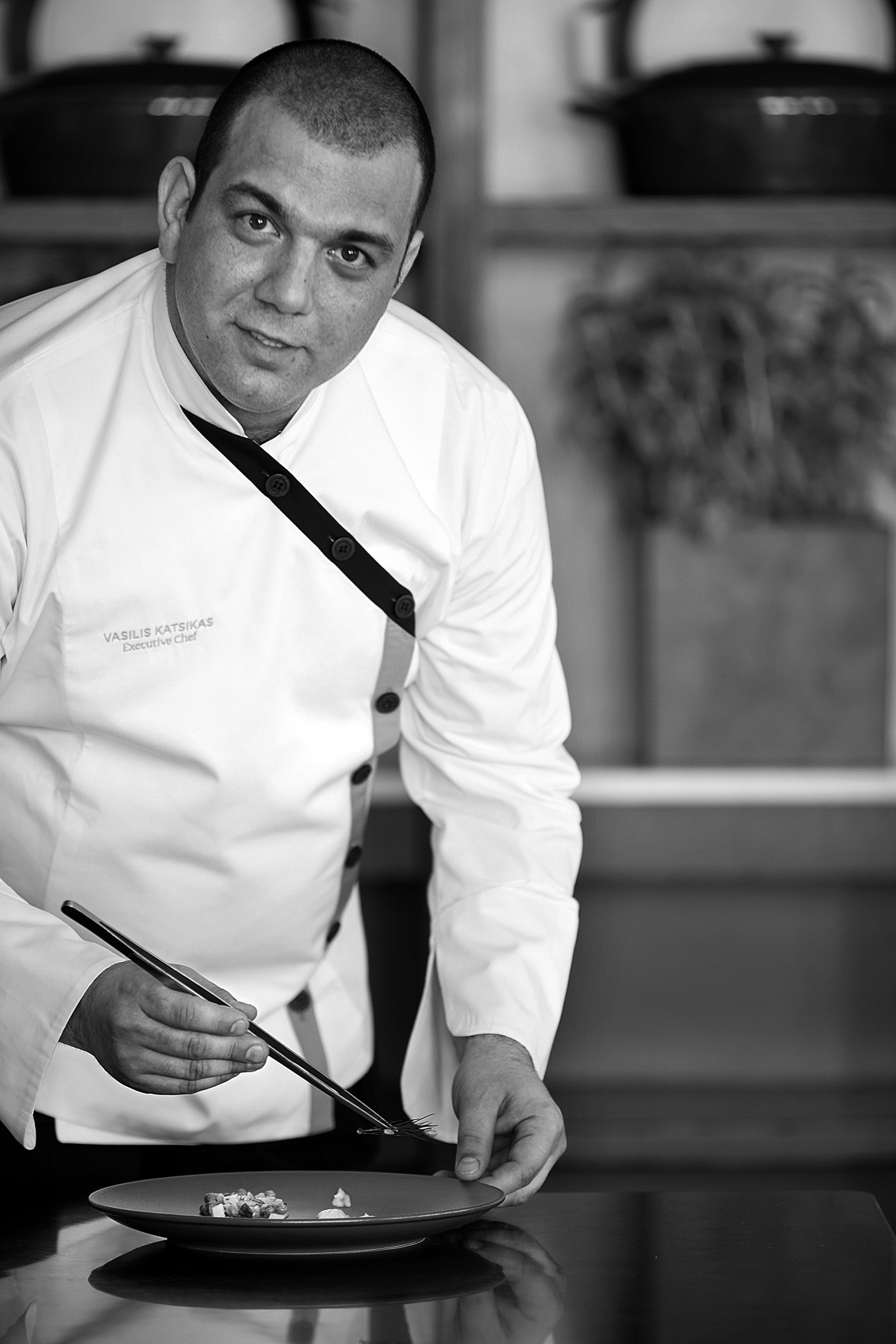 Enjoy!