The ancient Akrotiri is a Minoan Bronze Age settlement in a village in the southwestern part of the island, less than an hour drive from Oia, and only 15 km drive from Fira, the capital of Santorini.
Ancient Akrotiri gives its name to a quaint, typical island village inhabited by about 450 people. It attracts an abundance of tourists interested in local history and heritage. The original settlement was destroyed by the Minoan eruption of Thira in 1627 BC. Because it was buried under volcanic ash, many of its original frescoes, pottery, and artworks are well preserved. Many of the archeological findings from the site are exhibited at the Museum of Prehistoric Thera in Fira.
The first excavations at ancient Akrotiri were performed by French geologist and volcanologist Ferdinand André Fouqué, followed by Henri Gorceix and Henri Mamet, however, more systematic excavations were made by Greek archaeologist Spyridon Nikolaou Marinatos in 1967, which revealed the outstanding value of the site. After the death of professor Marinatou in 1974, digs are continued by Professor Christos Doumas and his team.
Excavations of the prehistoric settlement reveal that ancient Akrotiri was first inhabited during the Late Neolithic period, becoming a city as early as the end of the third millennium BC. During the Late Bronze era, ancient Akrotiri was a sizeable settlement, with paved roads and an extensive drainage system. It was one of the most prosperous ports of the Aegean, with elaborate buildings, richly decorated with frescoes, organized warehouses, industrial areas, and elegant squares. Unfortunately, these riches were buried under the ashes of the Thira, which also contributed to the collapse of the entire Minoan civilization.
The archeological site of Akrotiri is the most important on Santorini. It is well preserved and makes for an interesting attraction for travelers interested in local history and heritage. The site is open year round, with special opening times in offseason, between the beginning of November and the end of March.
If you visit ancient Akrotiri, take time to explore the modern Akrotiri village too. During the Venetian conquest here was one of the main castles of the island. The Venetian Tower (Goulas) is the only thing preserved from the castle and stands atop of a hill surrounded by modern homes. Take a hike to Balos, a small cove in the northwest of Akrotiri village. Access to this cove is difficult, but the pristine nature will inspire you. For the religious, a few moments at the small chapel Agios Nikolaos on the rocks next to the is worth the effort.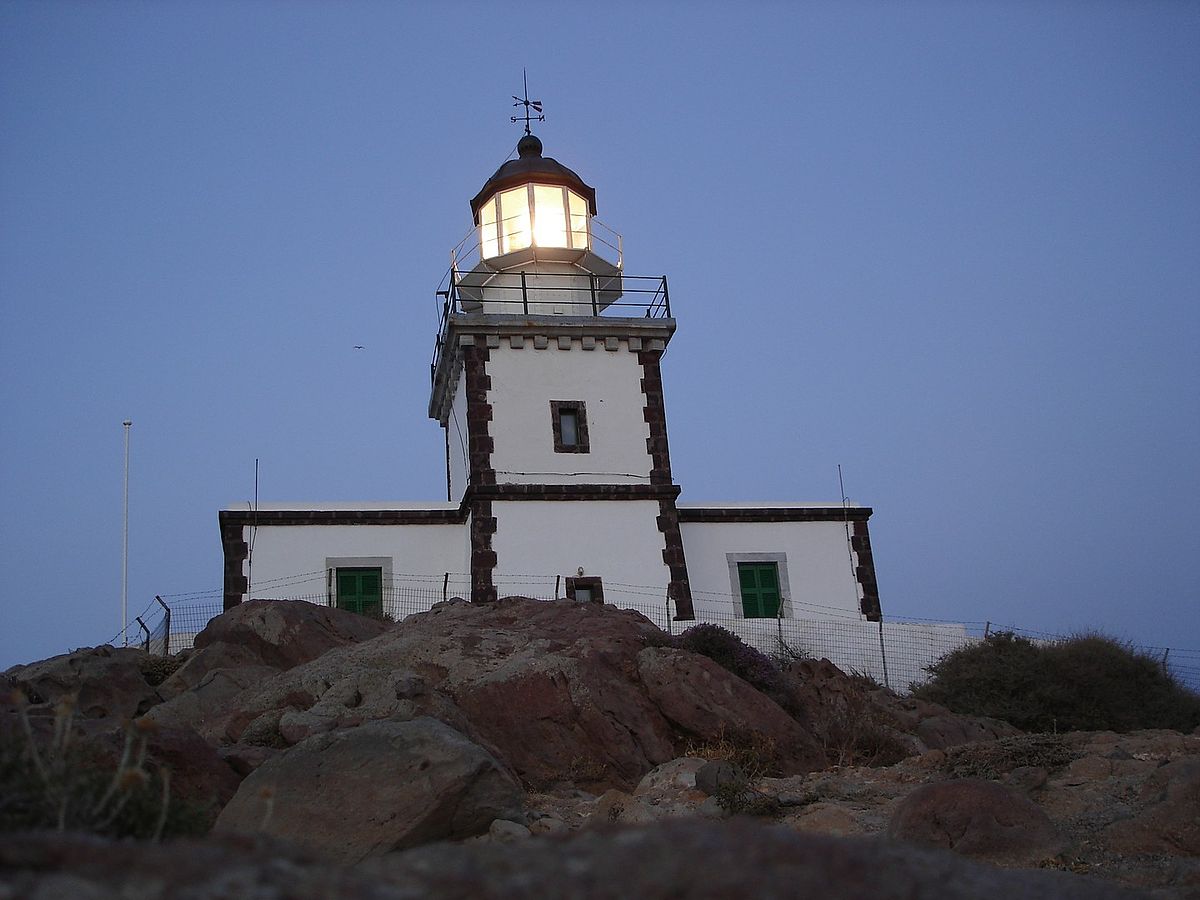 The lighthouse of Akrotiri, built in 1892, is another charming landmark worthy of your time.