The Hellenic Chamber of Hotels awarded the Alios Ilios restaurant at Santo Pure Oia Suites & Villas the Greek Breakfast certificate for its authentic dishes. Occupying a fabulous spot, close to the Sunset Seranade point, the Santo Pure Oia Suites & Villas is the perfect destination for a holiday in the Cyclades, but also an address for authentic hospitality. Here, tradition and modernity intertwine in an ambiance of blissful luxury and comfort. From early in the day, when you start your experience with an authentic Greek Breakfast, till late at night, when you count the stars with a fine drink in your hand, Santo Pure is everything you have envisioned your Oia holiday to be, and then some.
The Greek Breakfast on Santorini has particularities specific to this part of the country. It counts on fresh, local produce, like katsouni (cucumber) and kaparokoumba (capers), as well as freshly baked breads and pies with wild herbs, salads, and more consistent dishes, like Santorini fava beans with local onions; sandwich with "fava" beans and "tomatokeftedes"; breaded olives filled with fava beans; and baked white eggplant with triple concentrated tomato paste. There are also delicious desserts to choose from: sugar coated almonds; "Pasta flora" tart with grape sugar; and pudding with Vinsanto; among many other interesting sweet treats. Each hotel in the area has its unique, original yet traditional menu.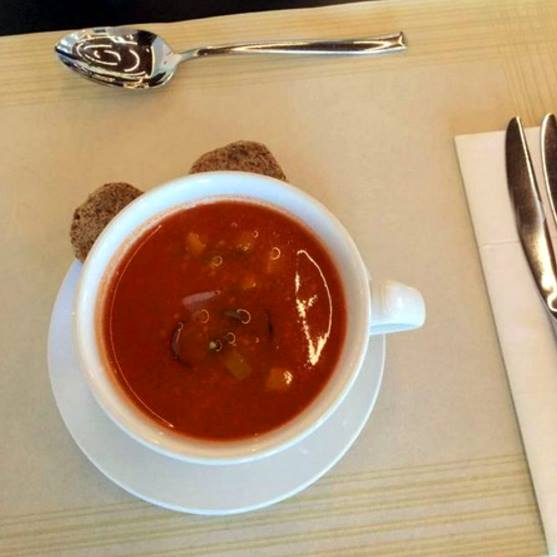 The original Greek breakfast at Alios Ilios restaurant at Santo Pure Oia Suites & Villas consists of both hot and cold dishes. While cold specialties can be grabbed at the breakfast buffet, hot dishes are made to order. Guests choose their favorites from the a la carte menu, and the kitchen accommodates their wishes.
All the baked goods are made in house, from scratch: rusks, breadsticks, mini dakos rusks, "ladokouloura" cookies with cinnamon and sesame, cookies with oats and linseed, and all kinds of breads. The restaurant welcomes guests with complimentary mini "dakos" rusks with fava beans, or other treats. Hot beverages like traditional Greek coffee and diktamo are also available on demand. The sour cheese spread and the red pepper and beetroot paste available for breakfast are also made in house, and so are the marmalades and jams you can choose from every morning. They also have specific local products, like thyme honey, and cheeses: San Michalis from Syros, "ladotyri" from Mytilene, "myzithra" and "ksinotyri" from Ios.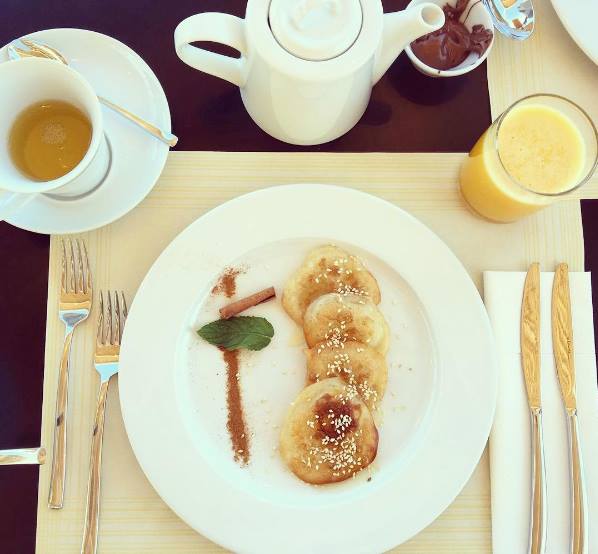 The Santo Pure Oia Suites & Villas breakfast buffet also displays fresh fruit and vegetables: the delicious cherry tomatoes of Santorini, katsouni, kaparokoumba, figs, oranges, lemons, apples, and much more. Because many people enjoy eggs prepared different ways, the Greek breakfast at Alios Ilios doesn't disappoint, offering a selection of boiled or fried eggs, but also specialties like strapatsara, kagianas, and sfouggato. Custom omelettes are available too.
There are also several types of pie to enjoy at Alios Ilios: traditional Greek cheese pie, pie with greens and spinach; and mushroom pie; among other savory bites. Desserts include fanouropita and melopita pies, as well as loukoumi and tiganites.